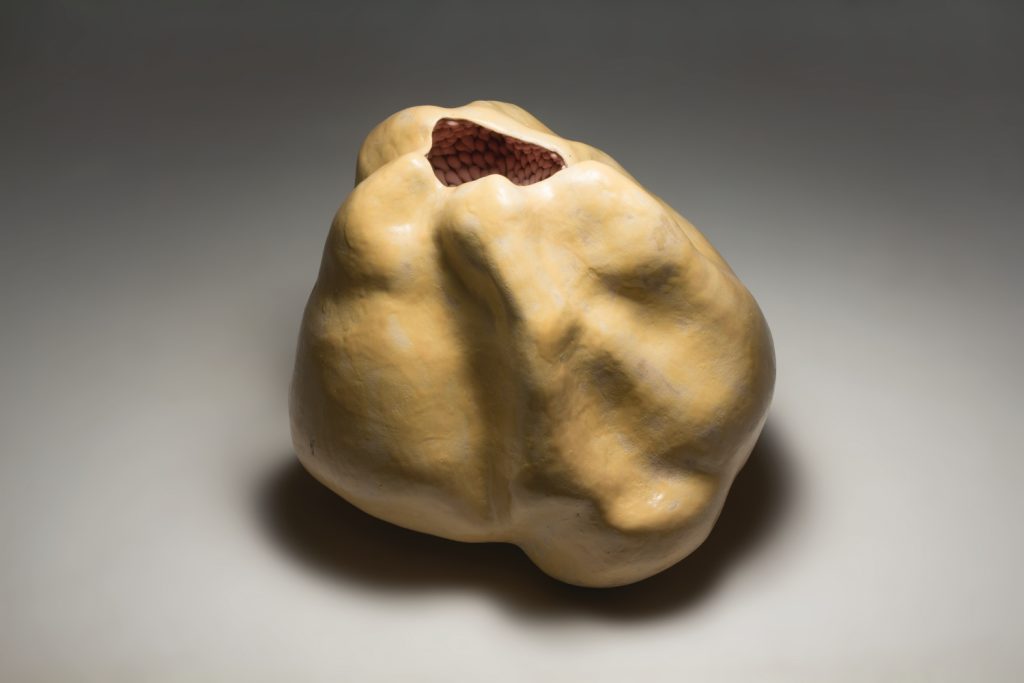 Where Does Passion End and Obsession Begin?
Angelica answers this question with tireless creativity: passion ends and obsession begins in that same place where the creative body and the created object blur together. constant engagement, meticulous motion, repetition, reaction, and change exist and occur between artist and artwork, also between individual objects. Ultimately, Tulimiero's sculptures are not organic because of an idea, although these are present, but because neither the artist nor the artworks come to rest. A ceaseless current moves – through the mind, the studio, the gallery – and with it ideas go forward, each object cycling into the next and the artwork evolving, almost before one's eyes.
In Deeper is the newest iteration of Tulimiero's art, and the new work is an advance: it is more colorful, more complex, and more hypnotic. The new work is also a reversal. here the textures, patterns, nodes, nodules and tender buttons that are the artist's signature retreat to the internal cavities of forms vulnerably opened to the investigative eye. The artist invites intimacy and meditation, invites the viewers gaze, and the line of sight becomes an axis between inner and outer worlds that mirror one another. In Deeper, infinite reflections, and in translation, Tulimiero is a mediator, channeling worlds and creating connections between substance and superstructure. And like all mediums, there is a certain, undeniable magic in Tulimiero's work.
Text by Anthony Stellaccio, 2017
Photo captions
Cell#1, 2016, stoneware, stain, glaze, 1260°C, 44,5cm x 52cm x 44cm
Cell#2, 2016, stoneware, stain, glaze, 1260°C, 47cm x 45,5cm x37cm
BC#1 and #2, 2016, stoneware, porcelain, stain, glaze.19cm x 11cm
BC#3 and #4, 2016 porcelain, stain, 1260°C, 19cm x 11cm
BC#5 and#6, 2016, porcelain, stain, 19cm x 11cm
BC#20, 2016 stained stoneware, 1260°C, 21cm x 40cm x 33cm
BC#21, 2016, stained stoneware, 20cm x 33cm x 26cm
Cell#3, stoneware, stain, glaze, glass, 1260°C , 2016, 46,5cm x 38cm x 33cm
Cell#4, 2016, stoneware, stain, glaze, 1260°C, 54cm x 49cm x 13cm
Cell#5, 2016 stoneware, stain, glaze, glass, 62cm x 54 x 14cm, 1260°C
Cell#6, stoneware, stain, glaze, 1260°C, 32cm x 30cm x11cm
Cell#11, 2016, porcelain, stain, glazes, 1260°C, 20cm x 23cm x16cm