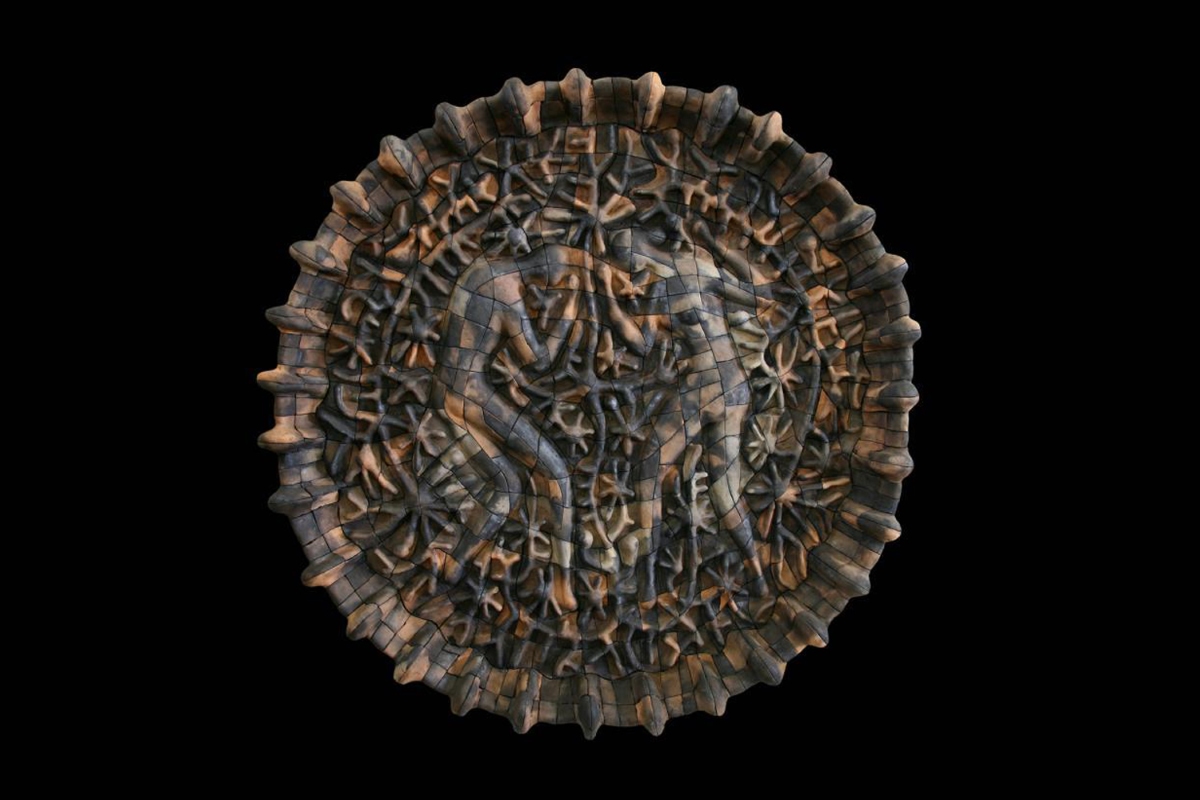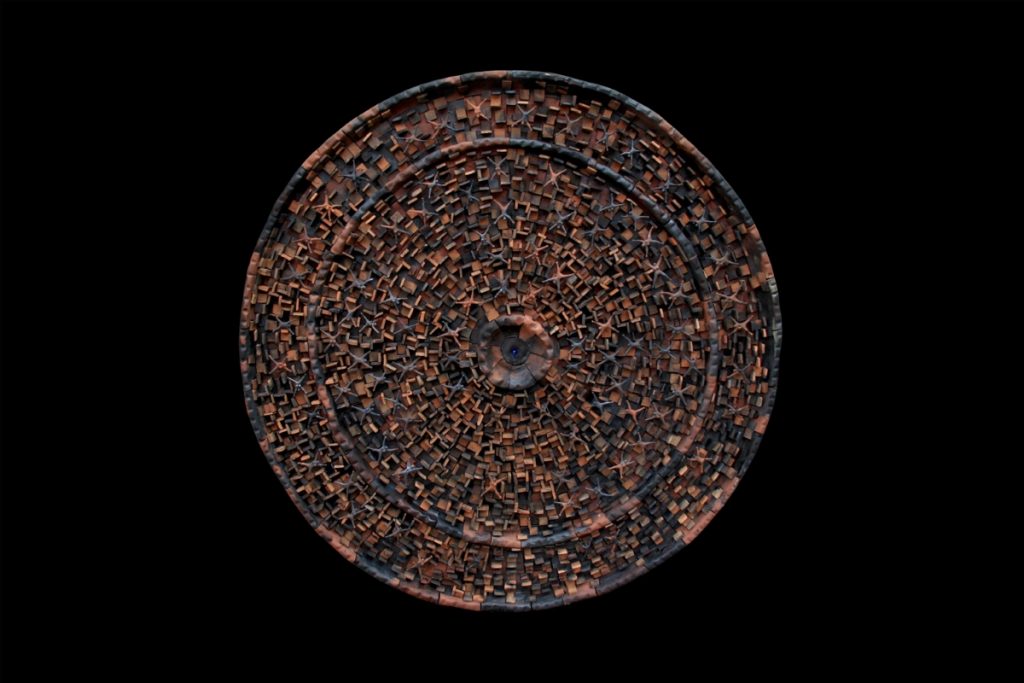 Ivan Kanchev: Man, where are you? (Night Visions), 2012-2022
The project Man, where are you? concerns current problems of the present existence. Everything is fragmented in ecological, social and political terms. The earth is notched. The man is small and naked, confused and defenseless, represented with outstretched arms and legs apart – in a poetic and artistic crucifix. It is an object-subject, center and periphery, meaning and time.
The man runs, looking to find his foundations. His human nature is shaken. Embroiled in the mosaic of continuing problems, frantically seeks happiness in the maze of life. But is he able to come to his senses and find himself? Will he find happiness in this direction of search?
The depicted scenes with clay and fire in Man, where are you? are nocturnal, as in a dream, as picture visions. Thematically they are derived from the heritage of universal history and culture. The monumental vessel shape is symbolic. The circle is like an echo of the ideal, as an image of Mother Earth, like the Sun. The rectangle is reminiscent of human existence, the boundaries of time, space, and corporeality.
The message in the project Man, where are you? is: (1) a call to return to natural life, (2) a call to the essential in art, (3) a call to be oriented toward the primary meaning of being, (4) a call to come out of spiritual death, (5) a call to self-realization through self-expression.
The project combines sculpture and utilitarian ceramics, through the structure of the panel and the mosaic technique as a painting and with pronounced graphic moments. I am developing the ancient Balkan black Thracian pottery as a painting. Thus I seek universality based on national traditions.
Photo captions
Plate – Passing, 2022, red clay, reduction, smoking, 110x110x6 cm
Plate – Passing, (detail), 2022, red clay, reduction, smoking, 110x110x6 cm
Plate – Passing, 2022, red clay, reduction, smoking, 70x70x5 cm
Plate – Passing (detail), 2022, red clay, reduction, smoking, 70x70x5 cm
Man, where are you?, 2021, porcelain, glaze, 180x180x13 cm
Man, where are you? (detail), 2021, porcelain, glaze, reduction, smoking, 180x180x13 cm
Man, where are you?, 2016, porcelain, reduction, smoking, 140x140x10 cm
Plate – Excitement, 2016, red clay, reduction, smoking, 85x85x6 cm
Plate – Excitement (detail), 2016, red clay, reduction, smoking, 85x85x6 cm
Plate – The wheel of life, 2016, red clay, reduction, smoking, 80x80x5 cm
Plate – Jacob's fight with the angel, 2015, stoneware, reduction, smoking, 120x120x12 cm
Plate – In Eden, 2017, red clay, reduction, smoking, 120x120x11 cm
Plate – In Eden (detail), 2017, red clay, reduction, smoking, 120x120x11 cm
Plate – Fight in Eden, 2017, red clay, reduction, smoking, 80x80x12 cm
Plate – Adam and Eve, 2017, red clay, reduction, smoking, 130x130x8 cm
Plate – Unrest in Eden, 2017, faience, reduction, smoking, 80x80x8 cm
Plate – Unrest in Eden (detail), 2017, faience, reduction, smoking, 80x80x8 cm
Plate – Еclipse, 2018, red clay, reduction, smoking, 160x160x10 cm
Plate – Еclipse (detail), 2018, red clay, reduction, smoking, 160x160x10 cm
Plate – Еclipse, 2019, faience, reduction, smoking, 55x55x9 cm
Plate – Еclipse (detail), 2019, faience, reduction, smoking, 55x55x9 cm
Plate – Еclipse, 2014, red clay, reduction, smoking, 90x90x8 cm
Plate – Conversation, 2018, red clay, reduction, smoking, radio elements, 150x150x5 cm