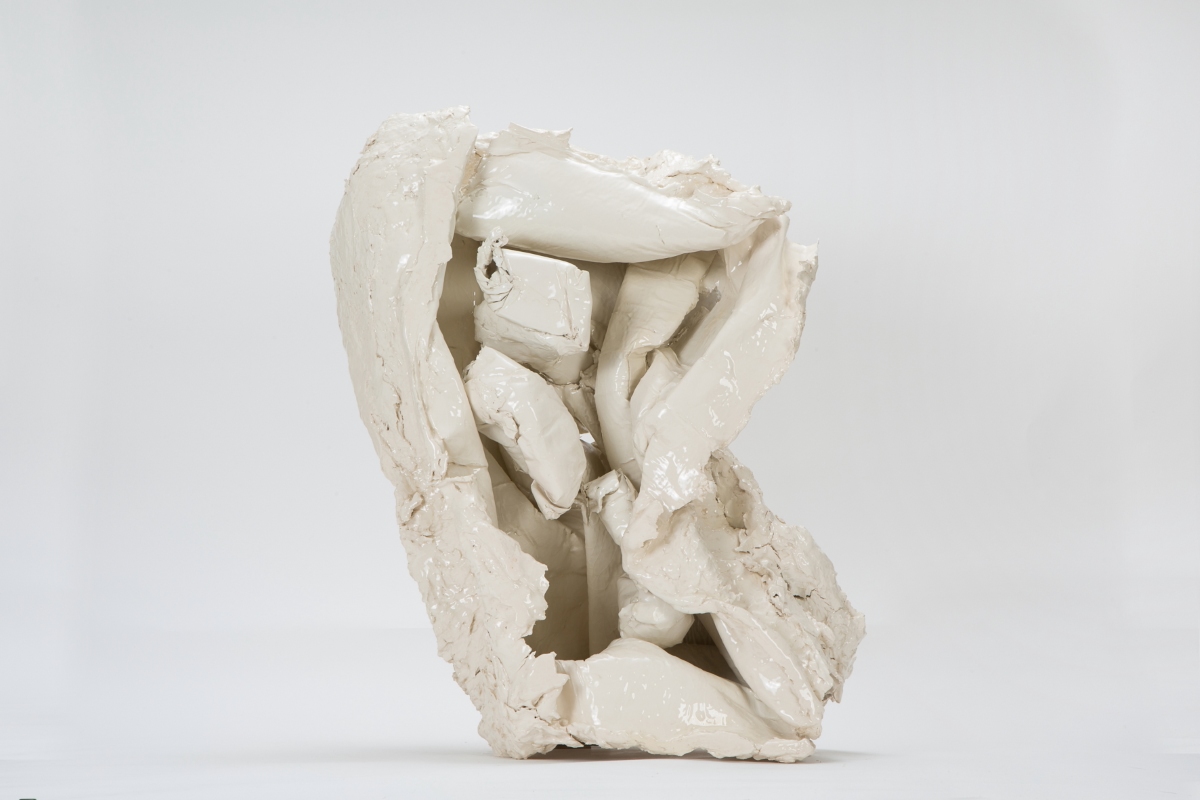 More than painting, even more than sculpture, ceramics involve the cognitive potential of the body. Shaping is thinking with your fingertips, investigating with the thrust of the fingers into the clay, and contemplating with the arms that they sustain and orchestrate a microcosm. Sculpting is imposing an idea with blows and very fine smoothing; shaping is arousing the response of earth, water, air, and fire. For Mattia Vernocchi, this hand-to-hand confrontation is stigmatized by a concept; it is marked by an observation of a present rough and industrial that makes what is ancient more abstract and conceptual, not archaic, primordial, if not original. The imagery of the artist is crucified with woven iron nets and metal profiles: to his thinking, it is imposed to dwell at the crossroads between the unmediated poetry of the creative act and the compelling lattice of what is made for use and so on abandoned. Almost a contest between alchemy and industry, magic and witchcraft. However, the crude bond of today that could frustrate a look further, a peek at the sky above the rubble, is transformed into an occasion lyric. The artist is both wounded and sustained by the time he tries to overcome and from its most common forms: objects are not simply given or collected but rethought, re-signified. Vernocchi reconstructs abandoned beds, populates bare cages, builds rough niches that look like sheets crumpled up, transforms the residues into song, and lifts them into a dimension of a lucid dream, to cast a glimpse beyond the desolation in which everything is suspended without meaning. The power of the hands, the patience of the flame, no longer more opposed to the ferocious limit of the gap, but they reabsorb it in themselves, they transfigure, and domestic spaces expand, they impose themselves as fossils of eras mythological, of torrential tales. Rivers of lava and rivulets of cooled magma envelop what is serial and lost; they recall the damp earth of the beginning, mineral power, and organic richness. For this, in the bare earth or Vernocchi's complex architecture, it is still possible to imagine cities forgotten, dreamlike remains of buried civilizations, industrial archeology of dreams.
Text by Alessandro Giovanardi
Captions
Zolle, 2019, Gres, 80x45x35 cm.
Zolle, 2019, Gres, 80x50x60 cm.
Zolle, 2020, Gres, 160x130x30 cm.
Torre, 2021, Gres, 40x36x65 cm.
Zolle, 2019, Gres, 55x35x95 cm.
Gabbia, 2009, ceramic and iron, 120x170x400 cm.
Gabbia, 2010, ceramic and iron, 235x265x40 cm.
Letto, 2007, ceramic and iron, 180x90x170 cm.
Letto, 2007, ceramic and iron, 170x200x30 cm.
Letto, 2007, ceramic and iron, 180x200x95 cm.
Gabbia, 2012, ceramic and iron, 100x25x60 cm.
Letto, 2010, ceramic and iron, 180x99x77 cm.
Piatti, 2011, ceramic and iron, 130x80x60 cm.
Piatti, 2009, ceramic and iron, 80x30x50 cm.
Piatti, 2009, ceramic and iron, 110x30x90 cm.