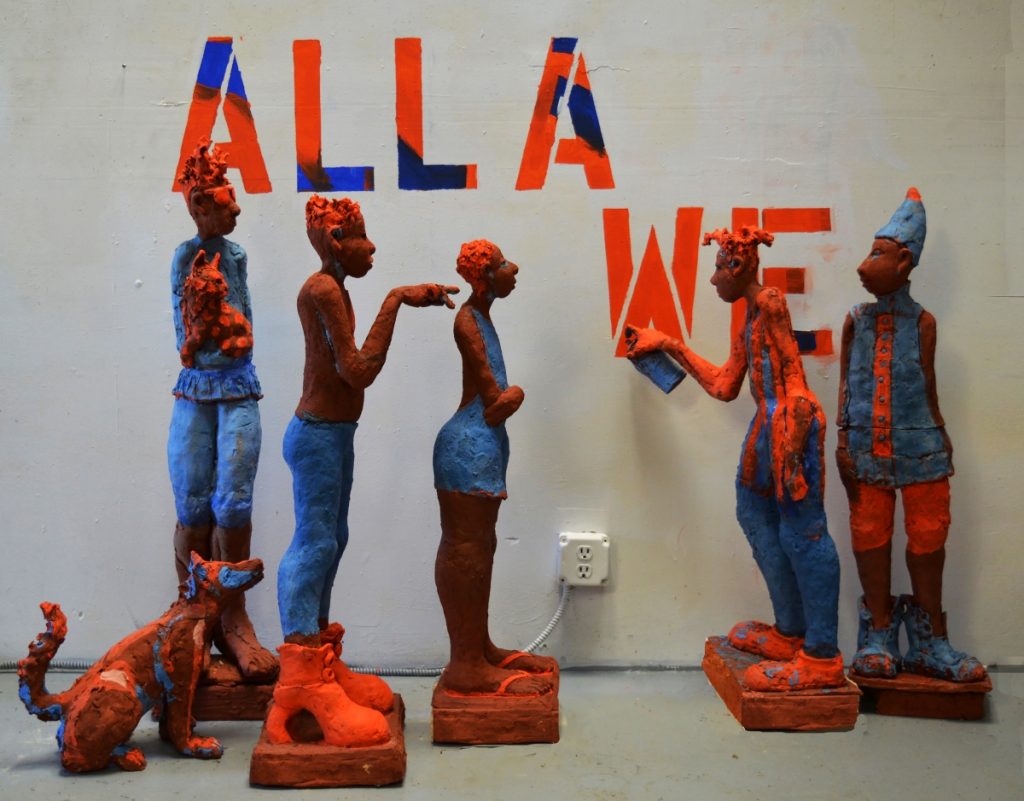 This large sculpture moves my practice into the realm of installation. It is a portrayal of creative community coming together after COVID shutdown. I challenged myself with the scope of the project, paying attention to the compositional dynamics of line and gesture connecting one figure to the next. I made the decision to unify all the elements with color, and the overall commitment to creating a sculptural record based on the contemporary life of the community.
The title of the sculptural group derives from the Caribbean expression which means "all of us right here in this moment, doing this thing together." I have often said this myself, whether teaching a class, atttending a birthday party. or participating in a group art project. I celebrate the saying because it is absolutely inclusive. "All of us right here" are people who belong together, without regard for our hair, our skins, whether we rode a bicycle or drove a car to get here, what we ate for breakfast, or where or if we pray. It is our intention and action that identifies us.
In Alla We, a group of four onlookers with a dog and cat observe and comment while an artist with a can of spraypaint writes the name of the sculpture on the wall. With its different, markedly individual figures, color is an important method for unifying the piece, using only blue and orange for consistency. Details like sunglasses, boots and sandals give distinct personalities and the stance and gaze of each figure are intended to convey a range of attitudes. Far left, Sunglasses holds a cat, and both are watching the artist paint with great interest. The dog is equally fascinaated. Next, Boots is offering a comment, with an emphatic hand gesture to help make the point. Diva reserves comment, looking serene and relaxed in flipflops and short dress. Spraycan leans in to put the finishng touches on the final letter, concentrating on the task at hand. Blue Hat watches very closely with an approving air.
As a sculptor my intention was to show a scene is from real life, as an affectionate portrait of my east Oakland arts community and its resilience. Gender ambiguity and cultural and ethnic blurring are intentional. The piece celebrates the way the lifting of COVID-19 restrictions allowed people to reemerge from isolation and once again engage in creative endeavors together.
Photo captions
Alla We, detail of group
Alla We, 2021, terracotta, 52x76x42in
Sunglasses, 2021, terracotta – detail
Sunglasses, 2021, terracotta slip, 52x16x14in
Diva, 2021, terracotta, 34x14x12in
Diva, 2021, terracotta, detail
Boots, 2021, terracotta, 38x17x15in
Blue Hat, 2021, terracotta, 41x16x15 in
Spraycan, 2021, terracotta, detail
Spraycan, 2021, terracotta, 36×29 x17in