Nick Vest: Three Related Series, 2018-2021
My goal in making is to end up with an interesting object. My work grows and changes quite often, with different bodies sharing techniques, themes, and lessons. I keep a lot of different projects active at all times. Many of them don't come to anything, but they have legacies. I very rarely "test" in the normal ceramic sense I like to think my job is making interesting objects. I keep a lot of different projects active at all times and they bleed together. I very rarely "test" in the normal ceramic sense anymore, maybe that's a product of Jingdezhen convenience. Every new object is a test for me, and tests fail, but they also surprise. To me there is a diminishing return on refinement. The first successful work in a series is always super exciting, the next few are equally satisfying as variations on the theme but beyond that It doesn't drive me personally to chase and refine that success because that will never be as exciting or interesting to me as the next first success will be. So my work is often in "limited series" that I sometimes re-open but never re-make. Those series bleed into each other and form little families of series, and even the failures have legacies in other works which undercuts the danger of all my "testing."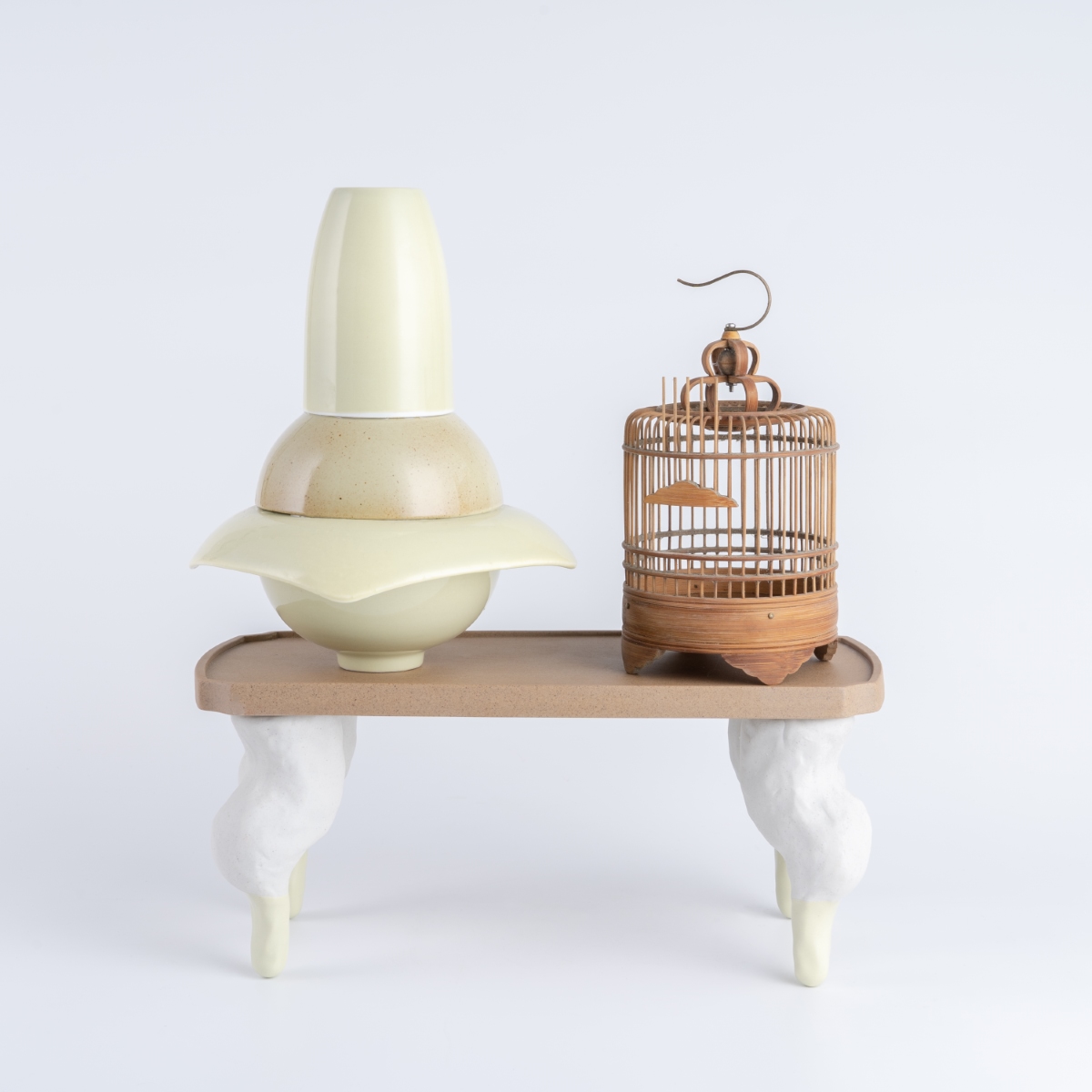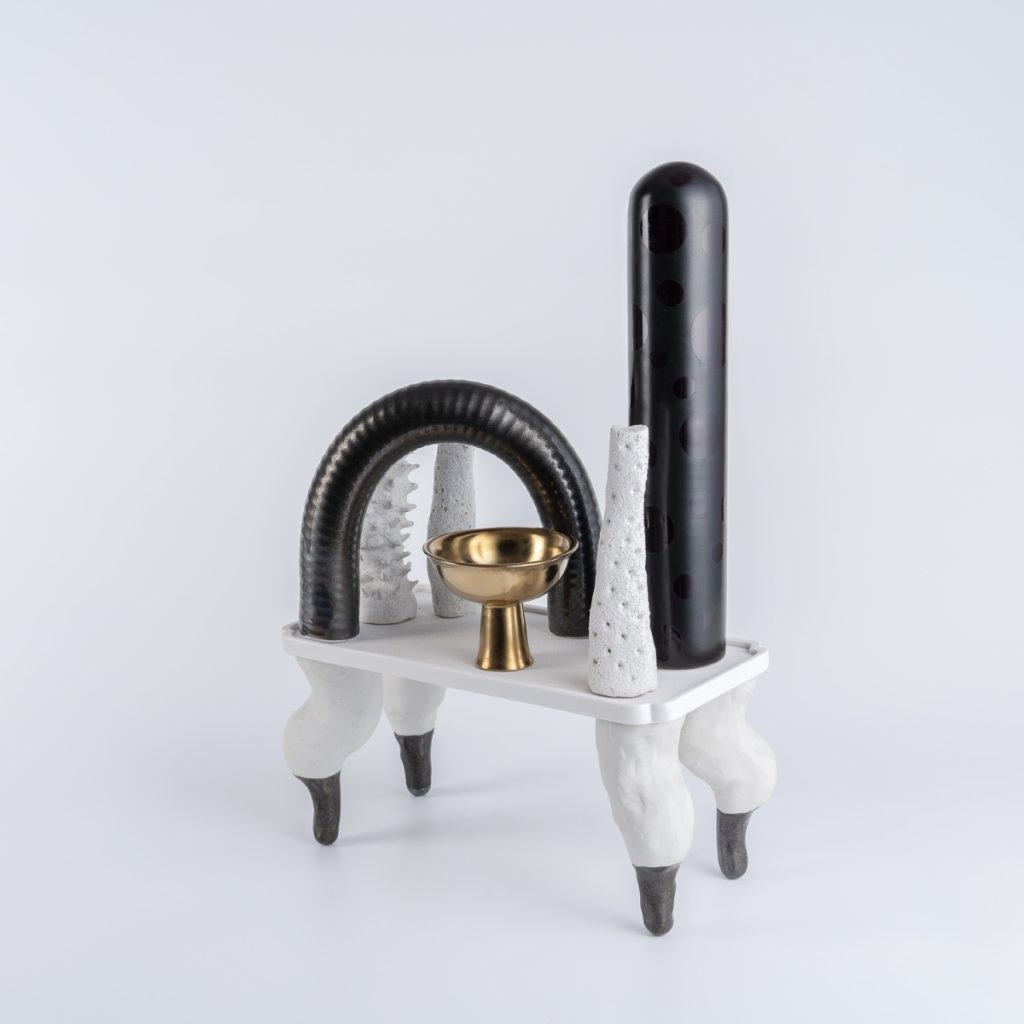 When I started making the Non-Specific Monument series (2019) I was thinking of traditional Chinese votive furniture and ancestral shrine arrangements, and wanted to make something that had some of the same delicacy and permanence and purposefulness. The stacked pots that make up the urn forms are all from bisque shops in Jingdezhen. I stack mock ups of these pieces in the shops and go shop to shop to find nice compatible pieces. The table form is a reference to a specific type of furniture but is also there to placate my phobia of work that sits flat.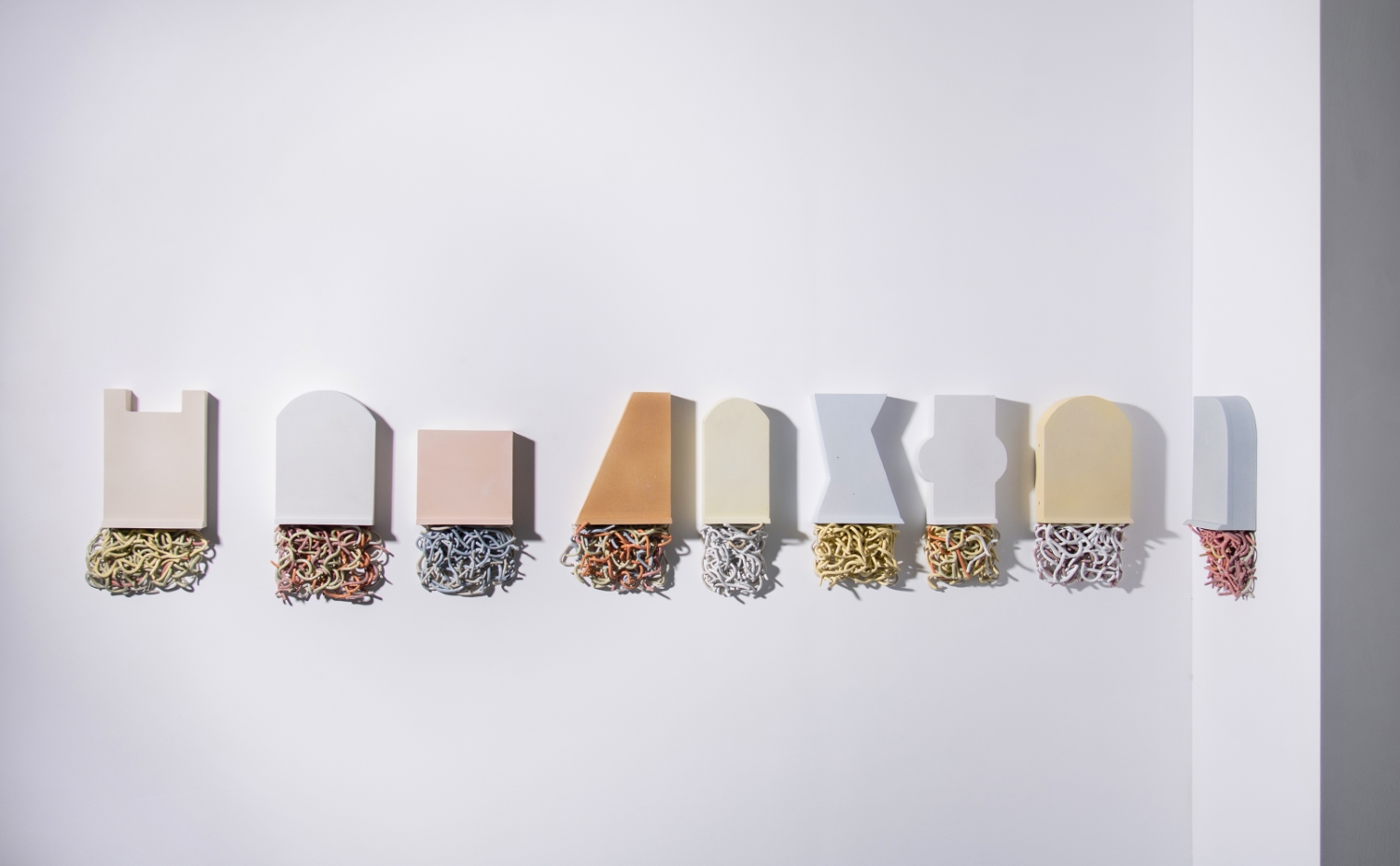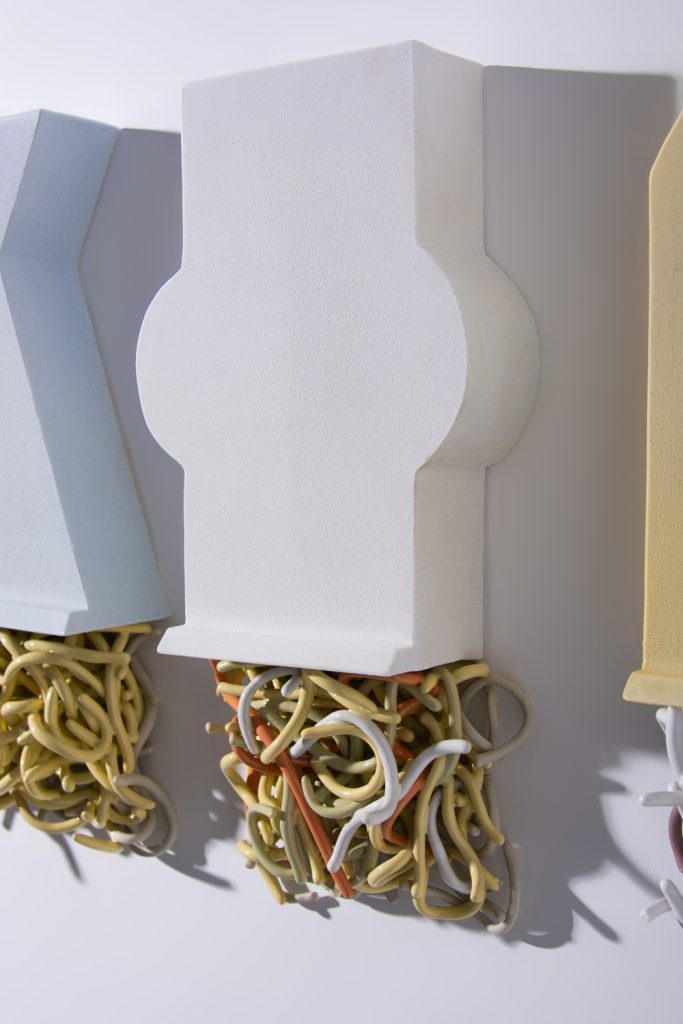 The first run of this series was title Side Salad and had Cat's Meow Village collectables from my grandma glued to them. I like to believe that work doesn't need a final title until its sold. Titles have as much weight as the work itself sometimes but are obviously easier to alter after production. The pieces really didn't do what I wanted them to do, but the boxes, which were made by a slab builder for hire in our neighborhood, really took over and made the whole thing something architectural, which changed the way I was thinking about the work. This set, titled development (for now), was the third and temporarily final production of the idea.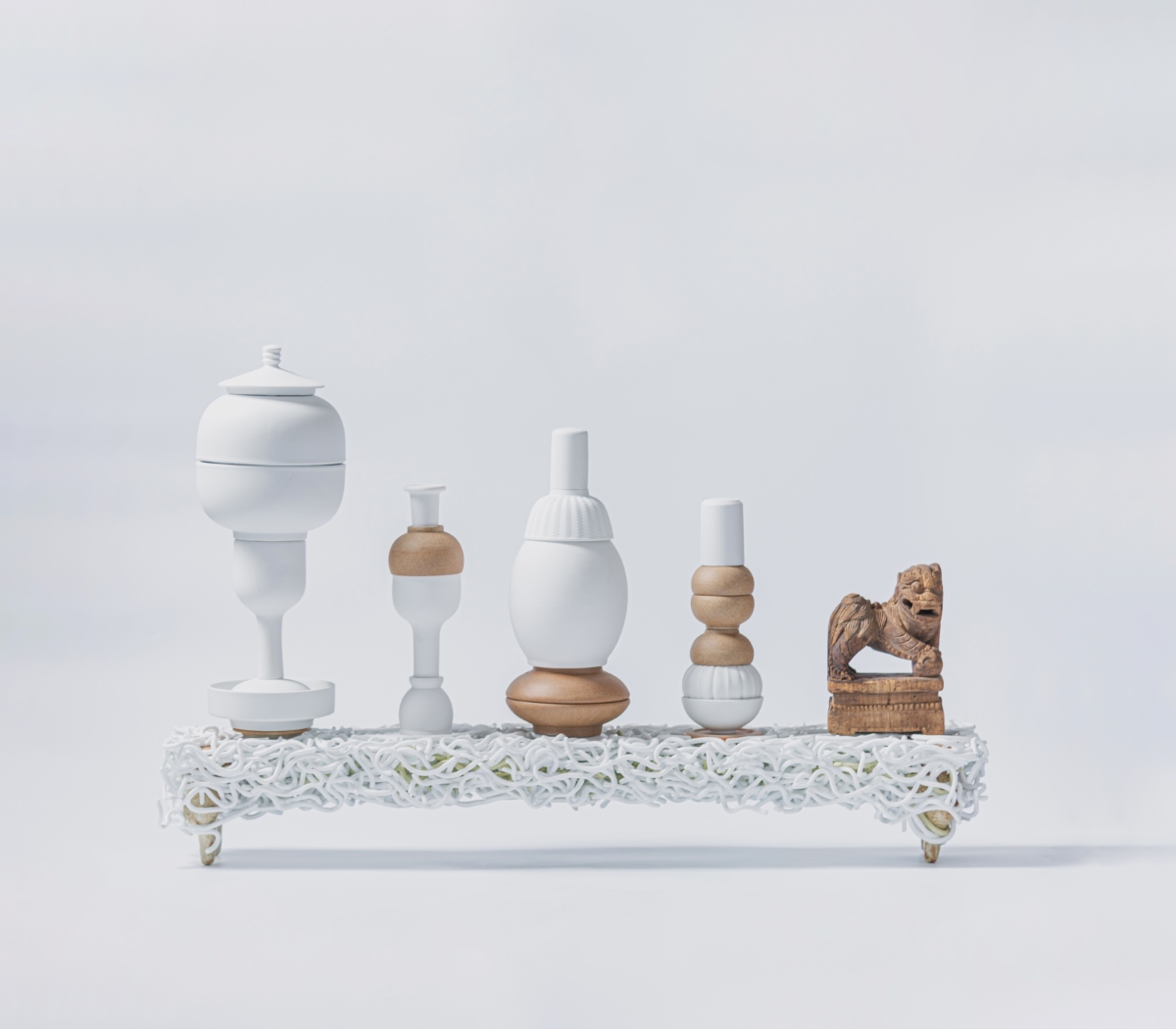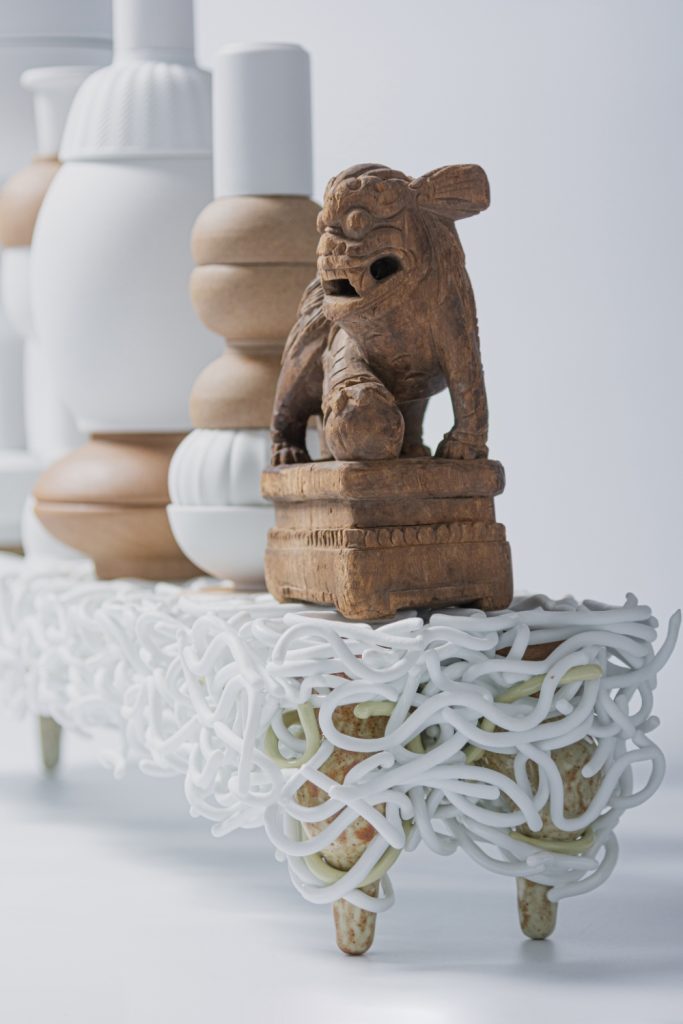 The newest works in this family are lumped together for now under the name Coiled Histories. Both were made for the Jingdezhen ceramic biennale in 2021. I used the building blocks of those earlier pieces, bleded them, and used them to talk about the city as I see it. In the first I tried to turn the pot stacks into the architectural forms that the boxes had ended up as in Development. I was playing with illustrating the shifts of the city in the midst of widescale construction projects. For #3 I made a model and mold that turned the foot of the piece into a long stem vase, and combined the piece with a "tang dynasty" figurine and a genuine early 20th century ceramic canteen. Found objects in these two were part of the plan, but for me more often are kind of gold star. When I'm making something for the first time the rate of failure and of ideas not holding up in real life is kind of high, so a good result is really exciting. For me that excitement usually translates into epoxying something sacred to the thing that turned out well, but is often still flawed as a first success, and pricing it way above market.
These three series all come from my Jingdezhen studio and a time in which I was pushing to make smaller works that could hold a place in a more intimate setting than a gallery. There are lessons learned in these series, and points of failure and intrigue that I can come back to. I require pretty constant change in my practice, but I think combining that change with an ability to archive, reuse, and adapt keeps each object fresh, contemplative, and richly layered, hopefully without too much pretense. That for me is always the underlying goal.
Photo captions
Non-Specific Monument #2, 2019, Porcelain, Stoneware, Glaze, Bird Cage 14" x 13" x 5"
Non-Specific Monument #3, 2019 Porcelain, Glaze, PVD, Decal, 13" x 15" x 5"
Non-Specific Monument #4, 2019 Porcelain, Glaze, Tea Brush, 10" x 13" x 5"
Development, 2018, Porcelain, Sprayed Slip, Glaze, 18" x 9" x 2" (each box)
Coiled History #1, 2021, Porcelain, Stoneware, Glaze, Wooden Figure, 24" x 36" x 5"
Coiled Histroy #3, 2021, Porcelain, glaze, antique vase and figurine, pictured with bamboo sprouts, 24" x 13" x 13"