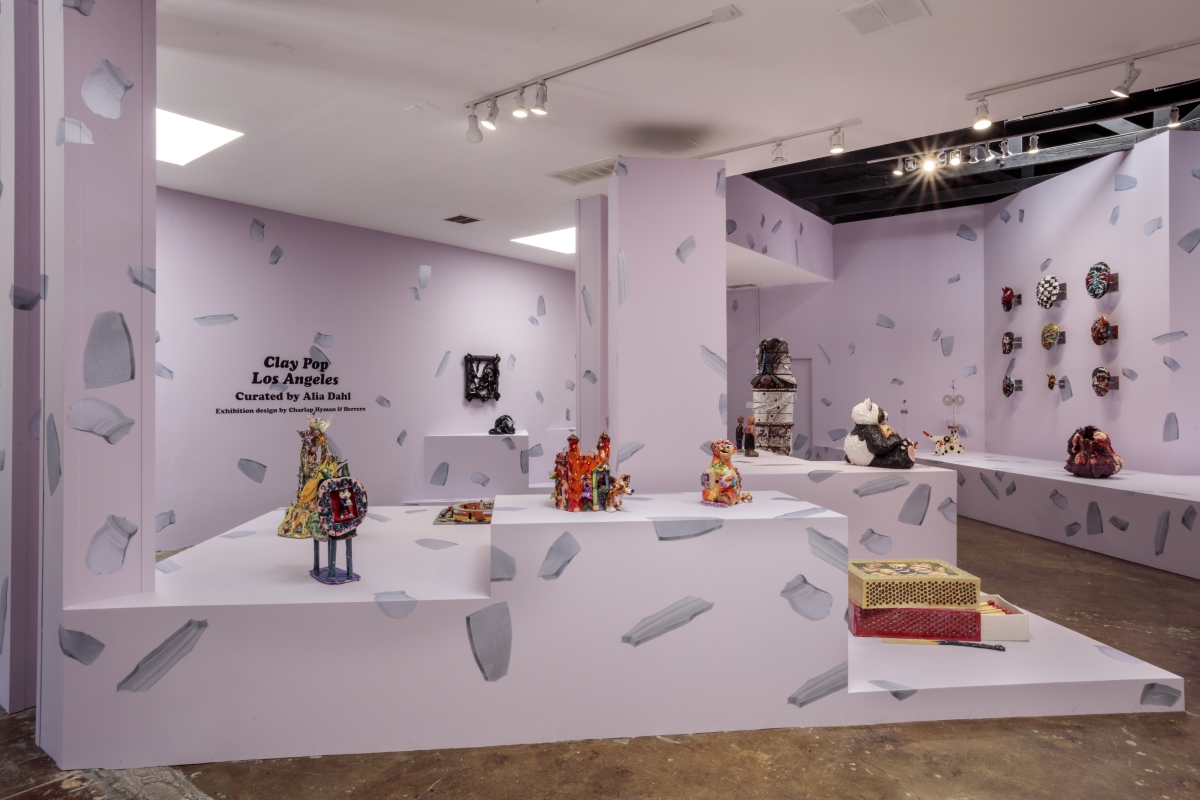 Clay Pop Los Angeles, Curated by Alia Dahl is on view at Jeffrey Deitch, Los Angeles
June 24 – August 12, 2023
A new generation of artists is reinventing the tradition of ceramic sculpture through its engagement with popular culture. A medium long associated with craft, ceramics have undergone a remarkable transformation evolving into an exciting platform for both formal and conceptual innovation. Curated by Alia Dahl, Clay Pop Los Angeles expands on the 2021 New York exhibition and the book of the same title published by Rizzoli this spring to present a group exhibition of thirty-two artists, most of whom work on the West Coast.
"Artists are taking a traditional medium and turning it on its head," says the exhibition curator Alia Dahl. Paralleling current concerns in painting, many of the artists featured in Clay Pop Los Angeles are exploring issues of gender, race and identity, using clay in new ways to engage with social issues. Clay is pushed beyond the confines of craft and design through artists using the medium to create a personal narrative.
Ceramic sculpture has a long tradition on the West Coast, especially in Northern and Southern California. While an earlier generation of ceramic artists is referenced, the range of influences encompasses everyday commercial imagery, counterculture, and artistic sources from African American assemblage to Walt Disney. Much of the new work is exuberant and figurative, expanding on how the medium of clay has been traditionally used. Glazes are especially colorful. Funk art from 1970s Northern California is a source, as is Claes Oldenburg's store. Some of the artists also draw on artistic influences from the Middle East, Africa and Asia.
The exhibition unveils a new dimension to the genre, highlighting its ability to reflect and comment on contemporary culture. One of the most interesting qualities of this new generation of ceramists is the deep sense of community. Los Angeles, Long Beach and Oakland are home to numerous new voices experimenting with clay, serving as the perfect platforms to show the multicultural heritage of the ceramics community.
The exhibition design by Charlap Hyman & Herrero continues the successful collaboration initiated in New York.
Copies of the book Clay Pop are available at des pair bookstore located in the gallery at 7000 Santa Monica Blvd. The publication, designed by POLYMODE, features thirty-eight artist portfolios and is accompanied by an essay by Michael Lobel, a scholar of Pop Art and professor at City University of New York.
The artists participating in Clay Pop Los Angeles are: Diana Yesenia Alvarado, Alex Anderson, Alex Becerra, Genesis Belanger, Seth Bogart, Kenturah Davis, Woody De Othello, Sharif Farrag, Ryan Flores, Joel Gaitan, Melvino Garretti, Lizette Hernandez, Stephanie Temma Hier, Sydnie Jimenez, Grant Levy-Lucero, Candice Lin, Jasmine Little, Amelia Lockwood, Jiha Moon, Ruby Neri, Maija Peeples-Bright, Brian Rochefort, Jennifer Rochlin, Brie Ruais, Stephanie H. Shih, Alake Shilling, Peter Shire, Christopher Suarez, Magdalena Suarez Frimkess, Amia Yokoyama, Maryam Yousif, Bari Ziperstein.
Contact
info@deitch.com
Jeffrey Deitch
7000 Santa Monica Boulevard
Los Angeles
United States
Photos by Joshua White. Courtesy of the artists and Jeffrey Deitch, Los Angeles