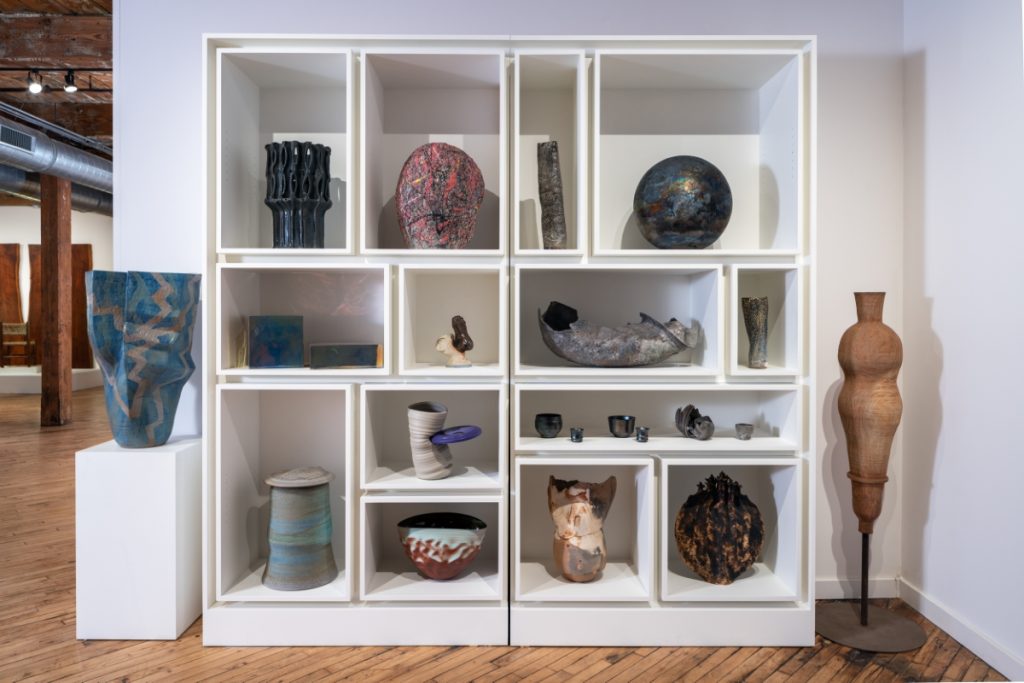 Important Studio Ceramics: 1932-2022 is on view at Moderne Gallery, Philadelphia
June 17, 2022 – September 24, 2022
Moderne Gallery, the Philadelphia-based authority on high quality, vintage 20th Century furniture, lighting and accessories since 1984, announces Important Studio Ceramics: 1932-2022, a new exhibition of important American and international studio ceramics.
The exhibition marks the 20th anniversary of the gallery's groundbreaking exhibition Ceramic Masterworks: 1962–2002, mounted at Moderne Gallery in collaboration with Helen Drutt, a world-renowned gallerist and curator who elevated American and international studio ceramics to the global stage.
Robert and Joshua Aibel, co-directors of Moderne Gallery and curators of Important Studio Ceramics: 1932-2022, have brought together more than 100 sculptures and vessels by major ceramic artists of the 20th and 21st centuries.
Building on Moderne Gallery's existing ceramic collection, they selected and assembled important works by some of the world's best known and emerging studio ceramicists including Peter Voulkos, Viola Frey, Bill Daley, Estelle Halper, Karima Duchamp, David Gilhooly, Zein Daoud, Tanaka Tomomi and Hashimoto Tomonari.
A full list of the ceramicists in the show may be found below.
"We spent the last year curating an eclectic collection of unique and important ceramics by illustrious and emerging artists. In addition to foregrounding the beauty, innovation and complexity of studio ceramics, this exhibition is intended to encourage viewers to consider and value the ways in which art transcends cultural and class boundaries," according to Robert and Joshua Aibel, father and son co-directors.
American Ceramicists: Robert Arneson, Clyde Burt, F.C. Ball, William Daley, Ken Ferguson, Viola Frey, Betty Davenport Ford, Anne Goldman, David Gilhooly, Andrea Gill, Bruce Grimes, Estelle Halper, Dick Hay, Earl Hooks, Karen Karnes, Nadine Karnow, Ryan Kitson, Wayne Higby, Ken Price, Don Reitz, Daniel Rhodes, Paul Soldner, Rudolf Staffel, Lizbeth Stewart, Toshiko Takaezu, Neil Tetkowski, Robert Turner, Peter Voulkos, Ira Winarsky, Betty Woodman
Japanese, French, English, Dutch and Lebanese Ceramicists: Nicolas Arroyave-Portela, Zein Daouk, Karima Duchamp, Ian Godfrey, Teruo Hara, Akiko Hirai, Hiraoka Junpei, Kim Riyoo, Inayoshi Osamu, Tanaka Tomomi, Hashimoto Tomonari, Joost Van Den Toorn, Ryo Toyonaga, Imura Toshimi, Makoto Yabe, Kohyama Yasuhisa
About Moderne Gallery
Founded by Robert Aibel in 1984, Moderne Gallery is internationally renowned as a leading dealer of exceptional design from the 20th and 21st Centuries. With a specialized knowledge of works from the American Craft Movement, Moderne Gallery has established a reputation as an authority on works by designers such as George Nakashima and Wharton Esherick. In 1985 Moderne Gallery was pioneering in its exhibition of the work of George Nakashima and continues to maintain the finest and largest selection in the US of the designer's 1940's-1980's designs.
The gallery extended its commitment to Studio Furniture, including vintage studio furniture by Sam Maloof, Wendell Castle, Arthur Espenet Carpenter, David Ebner, Jere Osgood, Dan Jackson, and many others. In addition, Robert and Joshua expanded their studio craft representation to ceramics, metalwork, fiber art, enamels and more.
Since 2010 Moderne Gallery has been co-directed by Robert Aibel and his son Joshua. In 2020, they relocated from Old City to a 16,000 sq. ft. location in the Port Richmond district of Philadelphia where the large gallery space provides opportunities for its compelling exhibitions of design.
Contact
info@modernegallery.com
Moderne Gallery
2220 East Allegheny Avenue
Philadelphia, PA 19134
United States
Photos courtesy of the gallery