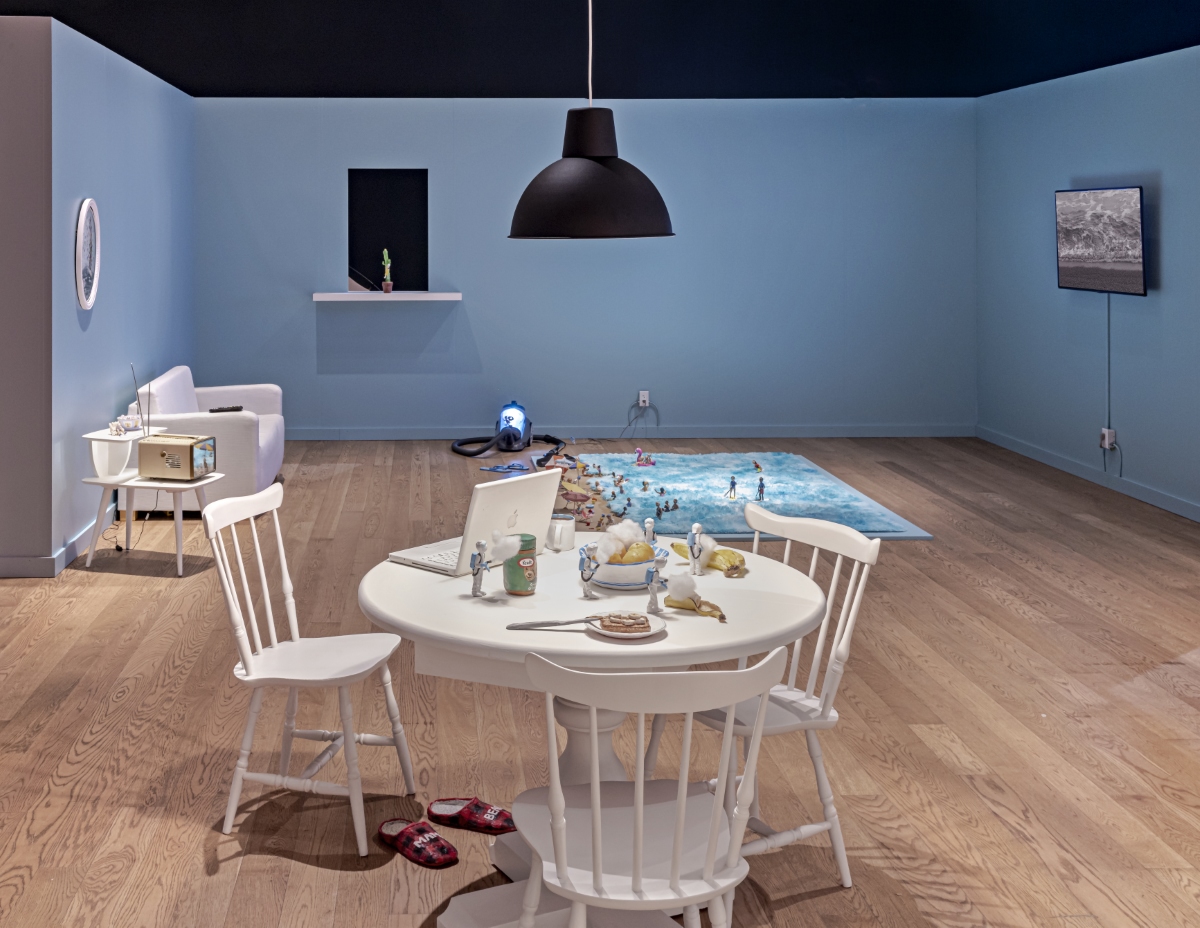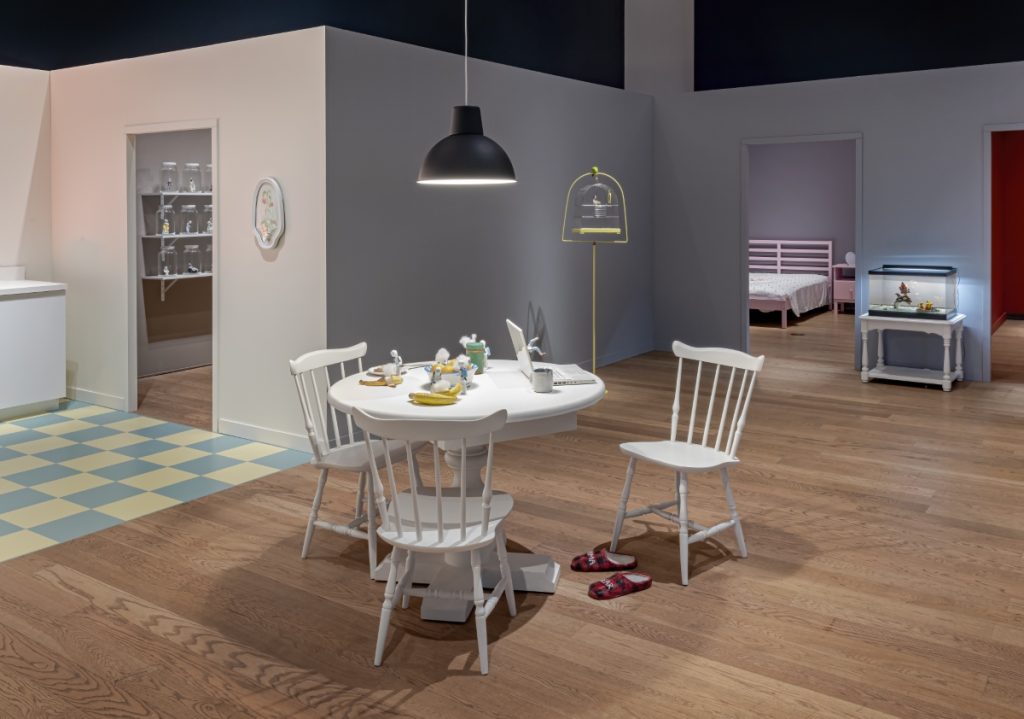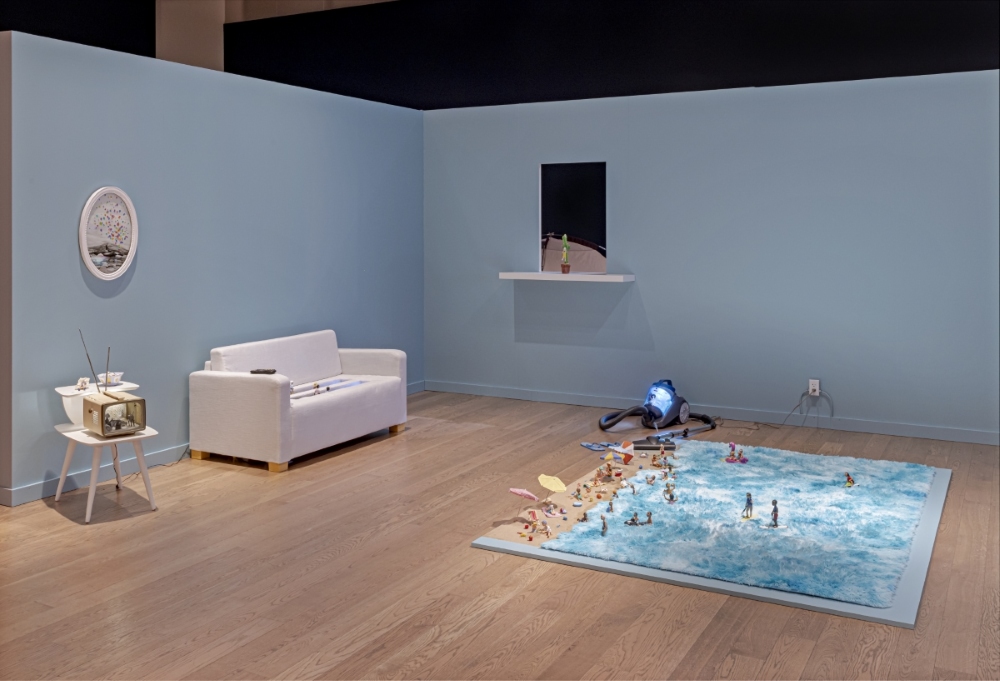 Karine Giboulo: Housewarming is on view at the Gardiner Museum, Toronto
October 20, 2022 – May 7, 2023
Karine Giboulo: Housewarming is an immersive, large-scale installation created for the Gardiner Museum. As visitors enter the exhibition space, they stumble upon a life-size reimagining of the artist's home on a summer evening. The sun has set and crickets are chirping. The door is open, an invitation to enter.
As visitors cross the threshold, they are free to cast themselves in any role they choose—neighbors, friends, guests, or perhaps intruders—voyeuristically navigating between social and private spaces, from the kitchen to a bedroom closet. Have they been invited or not?
The miniature scale of the scenes prompts close looking and scrutiny, making visitors feel like giants as they inspect the interior and surfaces of mundane, everyday objects where stories unfold: a dresser drawer, an oven, a fridge, a coffee maker, a sink, or even a clock.
The works in Housewarming illustrate one of the core functions of miniatures: to reduce and simplify complex ideologies, concepts or situations, and to present them on a scale with which we can relate.
In one of the exhibition's central works, Food Bank, a group of masked figures forms a socially-distanced queue leading to a food bank inside a reusable grocery bag. Made during the first waves of the pandemic, the work addresses household food insecurity and the impact of COVID-19 on community members made vulnerable by systemic barrier and poverty. A few steps away, in the refrigerator door, a woman with an overflowing shopping cart symbolizes overconsumption and reminds us of the social inequities the pandemic has exacerbated.
Tucked away in the pantry, a series of canning jars contain figures of elderly individuals, prompting a moment of pause and reflection about the tragedies that have unfolded in long-term care homes across the country. The scene conveys a sense of isolation, loneliness, and abandonment.
In the backyard, a camping tent acts as a powerful counterpart to the home presented as a place of refuge and safety. Inside, over a hundred small figures lie on a sleeping bag. The work calls to mind the encampments established in major cities like Toronto and Montreal during the first waves of the pandemic, as well as the housing affordability crisis and the increasing number of people facing housing instability.
Find more information about this show on the museum's website.
About Karine Giboulo
Karine Giboulo is a self-taught, socially engaged artist with a practice rooted in the documentary. Based in Montreal, she started her career as a painter but soon realized that telling stories in three dimensions was a more natural means of self-expression. She embraced the medium of polymer clay, a highly malleable, synthetic type of clay, which hardens when fired at low temperature. For the past twenty years, she has gained recognition for the creation of miniature dioramas—three-dimensional representations of real or imaginary situations—that tell stories grounded in the everyday.
Colourful and playful, Giboulo's visual language attracts viewers of all ages. However, her comic book aesthetic is a strategy to entice us to ponder serious themes. Her work confronts the social and humanitarian challenges of our time, raising ethical questions pertaining to our Western ways of life.
Giboulo has exhibited extensively in solo and group exhibitions, including at the McMichael Canadian Art Collection, the Musée de la civilisation du Québec, the Musée national des beaux-arts du Québec, and the Musée des beaux-arts de Montréal. Her work is widely represented in private and institutional collections.
About the Gardiner Museum
The Gardiner Museum brings together people of all ages and backgrounds through the shared values of creativity, wonder, and community that clay and ceramic traditions inspire.
The Gardiner Museum's collection of ceramics comprises approximately 5,000 objects, and focuses on specific areas which have been collected in depth. These include the most important collection of European porcelain in Canada, with particular strengths in Meissen, Vienna, and Hausmaler decorated porcelain, as well as a comprehensive collection of figures inspired by the commedia dell'arte. It holds the best collection of Italian Renaissance maiolica in Canada, and a superb collection of English tin-glazed pottery. The Gardiner preserves highly significant collections of ceramics from the Ancient Americas, Chinese blue and white porcelain, Japanese porcelain, and contemporary Canadian ceramics. It also houses a research library and archives, clay studios, award-winning Shop, and a restaurant.
The Gardiner Museum is among the few museums in the world focused on ceramics, and is one of the world's most notable specialty museums.
Contact
mail@gardinermuseum.on.ca
Gardiner Museum
111 Queen's Park
Toronto, Ontario, M5S 2C7
Canada
Photos by Toni Hafkenscheid