Leivos is a website that features interviews and works of new and recognized illustrators and graphic artists. Shyra & Veronika are the editors.
Super talented illustrator and wonderful person from Barcelona Javier González Pacheco has found time in his busy schedule and answered our questions.
L: What drew you to illustration in the first place? Where did all begin?
J G.P: All started when my mother, when I was only a baby, showed me for first time in my life a lot of color pencils in the floor, my small hands went directly for catch the first color of my life and draw a lines, this color was the yellow, and since this time, I have a special connexion with it.
L: Describe your personal style in 3 words.
J G.P: Free squares brushstrokes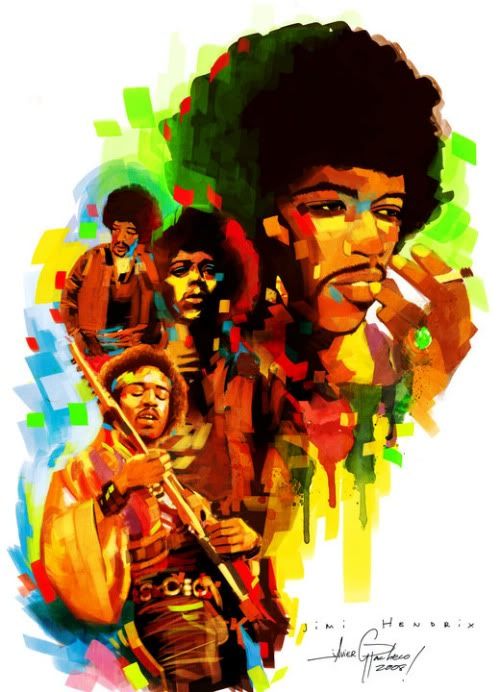 L: Your works have stunning kind of "golden inner light"! What methods do you use to apply colors?
J G.P: How I said before, I have a obsession with this "golden inner light" as you say, this yellows, this hot colors, like burning sometimes, is a pleasure for me use it, I need it, so, in the mayority of my works, you will can see always a detail in hot colors, even if is a cold illustration, sure that will have a little red brushstroke in some zone for example, I like the contrast between cold and hot colors, because I feel how the eyes and mind vibrate with this play of contrast, so infact, my method of apply colors is only painting in totally instinct way, in all my life I has been a totally observer of the nature, because is the best teacher for use the colors, you have only to see a sunset for know it, or see how some animals have a amazing mix of colors, like some frogs, some insects, the wings of a butterfly for example, or the great giant color pattern of a lot of flowers, all around you will be your teacher in the use of colors, lights, shadows, forms and much more.
 So, with all this knowledge acquired with the observation, I try to do it in my creations too, I like to work traditional and digital and I like to mix both disciplines too, when I do it in traditional style I use watercolors, acrylics, ink, graphite of different hardnesses, calibrated markers tip, pens etc, when I work in digital I use Photoshop, creating my own brushes and textures, and sometimes, what I said before, I mix traditional and digital, painting a base in the old fashioned way, scanning thousands of things in search of textures, mixing traditional strokes with digital strokes, I try to create confusion for the people don´t know what is digital and what is traditional. 
L: Do you love to travel? What is your typical day like in Barcelona?
J G.P: Yes, I like to travel, is a way of learn too about all, for the life, for be good with myself and for inspiration, a travel always activate me the desires of paint, I can´t stop of do what I love, so I will have always a moment for draw something, even in the corner of a paper napkin of a pub, I will have the necessity of draw some stupid thing!.
  My days in Barcelona are very simples, I like a lot to be with my friends that, as me, they like, value and love the art in all the giant aspects that have this world, so for me, I enjoy of a good afternoon of talk, drink a beer in good company and eat some "tapas"!, but the most important for me is walk, I need to do it, because is my moment of me with myself, looking the city, the lights in the builds, the persons, their expresions, as I say before, all around me is my teacher for create, so this is my moment of study and learn, I feel very good after a good walk, I feel more clear my mind and I like to thought the next works and ideas while I´m walking. 
L: Who inspire you - some famous people or maybe your friends? 
J G.P: I love the expressionist painters like Klimt, for his use of the decorative elements with the human forms, Egon Schiele for his style doing the anatomy and faces and his strokes, and the mix of colors of Kandinsky, a lot of cómic artist too like Bill Sienkiewicz, Ashley Wood, James Jean, Sean Phillips, Brian Bolland, Alex Ross, Teddy Kristiansen, Tim Bradstreet, Travis Charest, Dave Mc Kean, Mignola, Drew Struzan, John Bolton, Scott Hampton, P. Craig Rusell, Frank Miller, Miguelanxo Prado, Dave Johnson, Dave Gibbons and much more, and of course, I admire great friends and amazing artists  Bruno Redondo, Iban Coello and  Sergio Sandoval.
L: What can we expect from you in the nearest future?Any projects?
J G.P: The life of an illustrator is always a surprise!, anyway, in this period, I´m concentrated in editorial works.
L: If you were a superhero, what would your special powers be?
J G.P: For me the best power would be teleportation:
"All the day painting, so tired, ehmm, let´s go to Miami Beach! (teleportation now!)"
"I have to draw a lion, let´go to Africa! (teleportation now!)"
"I need a break!,  would be a pleasure feel free sensations in Big Canyon, let´s go! (teleportation now!)"
Yeah!
Thank you Javier!
http://javiergpacheco.blogspot.com/
→ Like Leivos on Facebook.
(Source: leivos)