Journey to the Centre of the Earth, 2022
Solo show, m2 Gallery, London, October 9 – November 20, 2022
A series of works acting as guides for, or protagonists in, other-worldly explorations yet to be made – journeys to impossible places that defy human intrusion. Of the 6,370km distance to the centre of the earth the furthest ever drilled is around 12km, at only 8.5km the temperature of 180°C makes it unfeasible to go further. Far more so than the remote reaches of outer space, what is known of what lies far beneath us is only formed indirectly from data analysis, supposition and speculation.
Over 1,300 million years ago, long before trees overtook the land some 700 million years ago, the earth was covered by giant mushrooms – like those that Jules Verne's Professor Lindenbrock discovered in his fictional account of the centre of the earth. These represented the beginnings of the mycelium network, a threadlike vegetative fungus. Transferring the right nutrients to the right plants and existing over much of the earth it acts as a superhighway of vital information forming an interconnective tissue of the natural world.
Like the tiny differences in DNA that distinguish us from each other (only a few tiny changes in our DNA structure set us apart, giving us our variations in eye, skin, and hair color) we are equally closely related to these fungi. Lancaster's works imagine a future in which human detritus (waste, bodies and possessions) is absorbed by this mycelium network and turned into extraordinary solidified geological formations that then return to the core earth once again.
Selected works, 2021-2022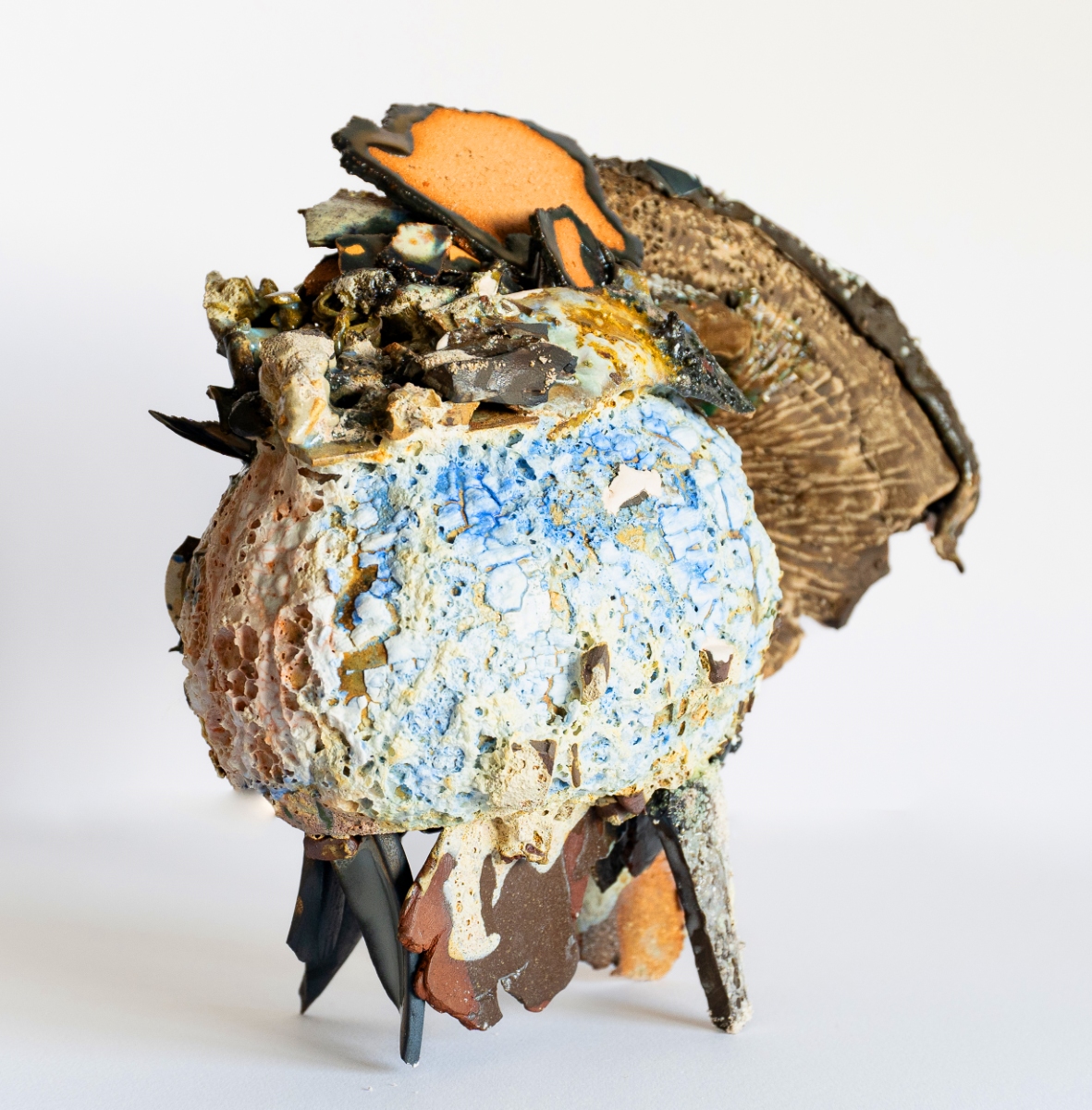 Captions
Journey to the Centre of the Earth, 2022. Clay, minerals, glaze
Move with me, 2022. Clay, minerals, glaze, 23cmx14cmx26cm
Tethered, 2022. Clay, glaze, quartz, gold leaf, 20cmx16cmx20cm
Tethered 01, 2022. Clay, glaze, quartz, gold leaf, 20cmx16cmx20cm
Resettling series, 2021